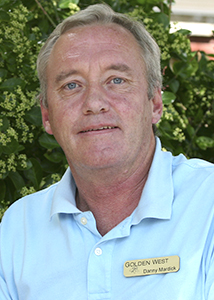 According to Danny Mardick, his problem-solving nature is a key trait that has helped him succeed as Golden West's Facilities Manager over the past 15 years. Danny began working at the community in 2003 and has overseen the community's housekeeping and facilities maintenance operations since 2005.
"It's satisfying helping people. The residents here really appreciate us, and they tell us that all the time," said Danny. "The staff here is great, too. We're all friends and a lot of us have been here for a long time. There's one person on our maintenance staff who has worked at Golden West for 25 years."
Prior to joining the team, Danny worked in building maintenance and construction for 18 years. At Golden West, he oversees three housekeeping employees including an assistant facilities manager, who clean the assisted living apartments, as well as the building's common areas, hallways and bathrooms. He is also in charge of three facilities employees, who handle all aspects of building maintenance.
Danny has deep roots in the Boulder community. Born in Glenwood Springs, he and his family moved to Boulder when he was a child, where he graduated from Fairview High School. He has fond personal memories of Golden West as well, including his paper route, which stopped at the community, and the lighted star that sat atop the building at Christmas.
"When I got hired, I asked about that star," said Danny. "My boss let me rewire it and put it back on the top of the building, where it shone brightly every Christmas for 12 years."
Today, Danny lives in Superior, where in his free time he enjoys hiking, working outside, reading about Colorado history, visiting the Black Hawk Casino and spending time with his four grown children and their families.
As Golden West's facilities manager, Danny oversees all aspects of building maintenance, plumbing, and mechanical and electrical systems and keeps inventory of all housekeeping and maintenance supplies. He also serves as liaison to the city's building inspectors, local fire department, elevator inspectors and boiler inspectors.
As part of his duties, Danny hires and interacts with landscapers, snow removal, painting, carpeting, electrical, plumbing, and elevator maintenance contractors; oversees daily maintenance operations and work requests; and refurbishes apartments to get them ready for new residents.
This year, Danny has also been heavily involved in the Golden West Low-Income Housing Tax Credit and Renovation Project, sharing his knowledge of building systems with the Palace Construction company team and assisting workers in obtaining access to Golden West's common and occupied spaces.
Mardick also helps facilitate the construction process by identifying and suggesting jobs to add to the project; solving issues caused by demolition activities; troubleshooting various problems; and attending weekly organizational meetings.
Danny has an important role in the day-to-day workings of Golden West, and it's an understatement to say we are thankful for his steady presence and good nature!