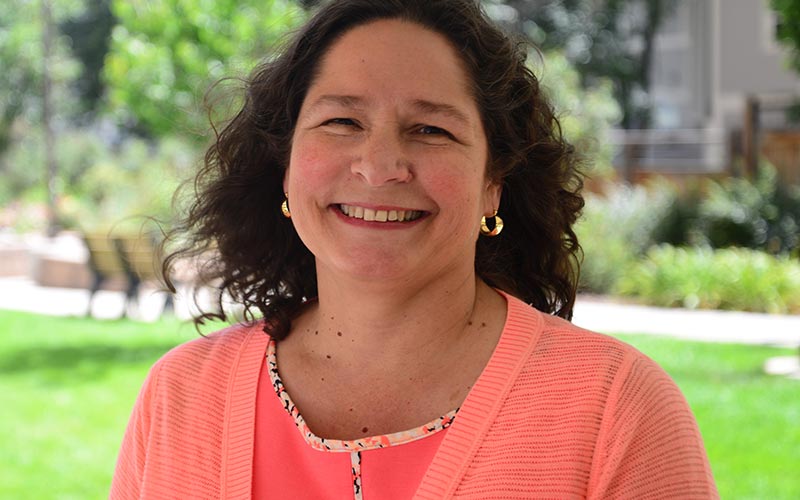 Chief Administrative Officer Donna Ruske has been an employee of Golden West for 27 years, having started at the community in 1993 as a receptionist. Since then, Donna has held several positions at Golden West, including in assisted living and the human resources department.
Today, as CAO she functions as a combination of different roles in HR, risk management and compliance. Among her many responsibilities, Donna, who holds a bachelor's degree in political and environmental science from Willamette University, functions as the organization's communications liaison with the city and county and as official recordkeeper for Golden West's policies, and is also part of the team that responds to resident emergencies.
And, for Golden West CEO John McCarthy, that Donna is a backbone of the community has never been clearer, from her invaluable assistance during construction planning for the Low-Income Housing Tax Credit and Renovation Project, to her leadership during the COVID-19 crisis, which coincided with the beginning of construction in March.
John McCarthy, who was promoted to CEO following John McCarthy' retirement on March 27, said during this unlikely confluence of circumstances, Donna has been instrumental in forming Golden West's health and safety policies for COVID-19, including its visitors policy, and then adapting those policies as health department recommendations changed and construction ramped up on campus.
"As things kept rapidly changing with new guidance from the state and county health departments, Donna would quickly adapt our COVID policies and disseminate information to staff," said John. "She has really, in my mind, taken ownership of Golden West's COVID-19 response: taking weekly calls with the health department, making sure protocol gets established, getting those processes documented and disseminated to employees and then guiding our staff in following them."
In addition, John said, in his five years as Golden West's CFO, he saw Donna take on an active role in the construction planning process, sitting in on weekly meetings with contractors and providing insight about building operations to help guide the process, then working with the team to adapt those construction plans when COVID hit.
"She always knows how each department operates and can speak to how each action by the construction team might possibly disrupt a certain department's activities," said John. "And she understands the flow of our residents, so if, for example, we have to shut off the water, she is very quick to bring that up so we can be sure to minimize the impact on residents."
John said, Donna has also been supremely helpful in his recent job transition, offering support and advice as he made his first decisions as CEO.
"She was good at helping me understand some areas of the organization I didn't have as much familiarity with, like, what Golden West had done historically," John said. "These are topics I might have known something about to start with, but I now have to look at a little bit differently as CEO."
For her part, Donna said she is proud to be part of a mission-driven nonprofit that provides a necessary service to the community: improving the lives of seniors.
"We are making a difference in the lives of hundreds of people every day," said Donna. "And that's not including the families and the positive impact on their lives knowing their loved one is in a supportive environment. It's all about the people. The staff and residents who build this community make all the difference."