An estimated 5.7 million Americans are living with Alzheimer's disease, a number that is expected to reach nearly 14 million within the next 30 years. Currently, there is no cure for the disease — and it's a disease that takes a toll on those inflicted as well as their loved ones.
As work created for the Living with Alzheimer's Film Project attests, it's not just seniors afflicted by Alzheimer's who must endure frustrating, emotionally challenging changes to their mental and physical capabilities. Family members and friends must also find ways to cope as their loved one's disease progresses, learning how to interact with someone who can no longer conjure a lifetime's worth of memories or even express the same emotions and personality traits they once did.
For many Golden West residents, this is what has inspired them to participate in the annual Walk to End Alzheimer's. "My mom passed away after eight years battling Alzheimer's," said resident Barb Cooper.
Cooper walks every year in honor of her mom. This month, she joined 24 others from Golden West at the University of Colorado Boulder campus for the 2018 walk. "It's important to fight Alzheimer's and find a cure," she said.
Cooper believes it's important that her senior living community supports the walk, and that her peers sign up to walk as well. "We [Golden West] are an aging population, and many of us are going to be facing dementia," Cooper said. "We really need to support ourselves and each other."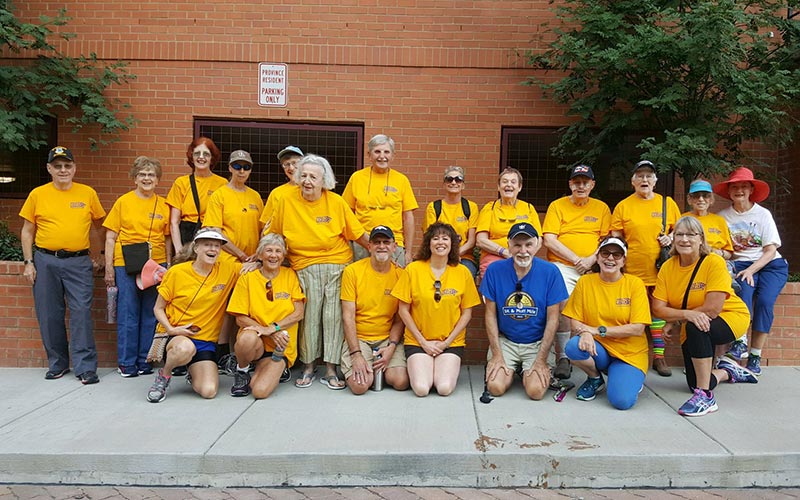 Though there is no cure for Alzheimer's, new breakthroughs in healthcare technology has allowed researchers to make major strides in the last decade. Advances in imaging technology have given doctors the ability to examine changes to the brains of those affected by Alzheimer's in real time, rather than waiting to look at changes after a person has passed away and an autopsy is performed. This has spurred funding for new stem cell drugs that reveal our brains may be able to heal themselves, further indication that a cure could finally be within reach.
"I'm 82, and [Alzheimer's] could happen to me any day," said Golden West resident Lorraine Anderson, who walked for the first time this year. "They need research to improve life for seniors with dementia and Alzheimer's."
Anderson and Cooper are proud that Golden West raised over $1,300 for a cure, far surpassing the community's goal of $600. "It was a great walk, and everyone was in high spirits," Anderson said.
Though the 2018 Walk to End Alzheimer's has come and gone, the need to raise awareness about the health challenges facing our nation's aging population has not. With 10,000 Baby Boomers turning 65 every day, one in three of them will eventually die from Alzheimer's or another form of dementia.
"Living here at Golden West, there are a few people with Alzheimer's," Anderson said. "They need our support." If you'd like to be part of that support, you can still donate to Golden West's team and join the fight for a cure.