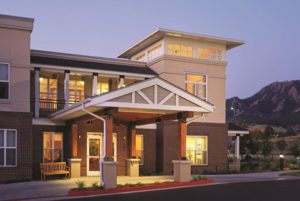 BOULDER, Colo.— Jan. 10, 2018— Golden West Communities, a respected provider of senior housing in Boulder for more than 50 years, announced the sale of its Flatirons Terrace independent living facility to Harrison Street Real Estate Capital. All management and operations of Flatirons Terrace will be overseen by Dial Retirement Communities, a senior living solutions provider based in Omaha, Nebraska.
Opened in 1965, Golden West offers housing for more than 300 seniors on its 3.5-acre campus at 1055 Adams Circle in central Boulder. In 2008 Golden West opened Flatirons Terrace a 54-apartment, offering quality independent living at 930 28th St., adjacent to the Golden West campus.
"We believe this is a win for everyone involved, including the residents of Golden West and Flatirons Terrace," said John McCarthy, president and chief executive officer of Golden West. "The board has been seeking solutions for how Golden West could remain true to its mission — providing affordable housing for seniors — while also remaining independent and finding the resources to upgrade our facilities for residents."
When the board decided to move forward with the sale of Flatirons Terrace, it developed specific criteria for the buyer: It would remain a senior living community and the buyer would embrace the values Golden West upholds in serving seniors. "We found an excellent partner in Dial Retirement Communities that will provide a quality living experience for residents of Flatirons Terrace," Torres said.
Dial Retirement Communities of Omaha, Nebraska, operates 15 senior living communities in Nebraska, Iowa, Kansas and Illinois. It is a division of The Dial Companies, which has more than 50 years of experience in commercial and residential real estate development and management.
In September 2017, Golden West secured a Federal Low-Income Housing Tax Credit through the Colorado Housing and Finance Authority. This funding will allow Golden West to tackle various capital improvements, remain an independent operator and, most importantly, continue the 50-year tradition of providing affordable housing options. Golden West currently offers about 40 percent of all affordable senior apartments in Boulder. In addition, Golden West accepts Medicaid-eligible seniors into the community through its assisted living program.