The Story
Golden West's mission is to provide quality housing and related services to persons aged 62 and older in an environment that is supportive of the senior residents and the local community.
Golden West was founded by the First Christian Church in 1965. Their efforts answered a need for senior housing in the Boulder area. Since then, the community has grown to include housing for independent and assisted living – The Towers, The Mezzanine, and Flatirons Terrace, its newest independent living community. Golden West has led the way for outstanding living options in the Boulder area. Its strength is its people. Staff, service providers, and residents combine to create a vital and rewarding experience. With only three executive directors in its 50 years of existence, there is a caring and continuity that is consistently delivered and protectively preserved.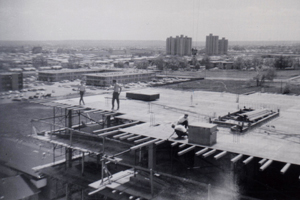 1965
Lyndon B. Johnson was President and Dr. Martin Luther King led a massive civil rights march to Selma, Alabama while Boulder residents could still run cattle across open acreage in Boulder County. The First Christian Church opened the doors of the first 11-story tower at Golden West with 154 affordable independent living apartments.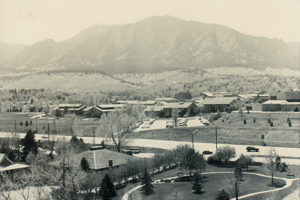 1971
Realizing the need for more affordable senior housing in Boulder, Golden West expanded. Just before adopting the 55-foot height limitation for new buildings, Golden West built the second 14-story tower, adding more affordable independent living apartments. Pictured above is the original view from the second tower.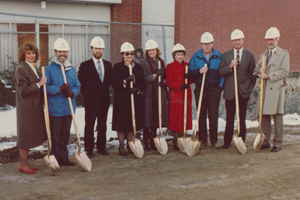 1989
The Berlin Wall came down and the U.S. launched the Galileo spacecraft. More people took up residence in Boulder, and Golden West responded by expanding its care and opening The Mezzanine, a four-story building with 56 new assisted living apartments specifically designed for those who needed more assistance and support than independent living apartments.
2006
As NASA celebrated the homecoming of the Stardust spacecraft and Google bought YouTube, Golden West welcomed Flatirons Terrace to its campus. This beautiful three-story independent living community added 54 market rate independent living apartments to the neighborhood.
Though no longer affiliated with the First Christian Church, their original vision of affordable, safe, and supportive care for seniors continues. We are proud to extend their legacy.