The People
From our residents to our visitors, staff and management, the feeling at Golden West is unique, caring and interesting. You sense it when you're here.
The Golden West staff and Board participate in key associations in aging services, such as LeadingAge Colorado, and are also active in organizations in the Boulder Valley community. We stay current with trends and issues in both senior housing and aging services because we are committed to providing the best home possible to residents.
John has served in the aging services field for more than 40 years, including 20 years as Golden West's executive director. A native of Boulder County, John is involved with the Colorado Association of Homes and Services for the Aging (former executive director, president, board member and mentor) and the American Association of Homes and Services for the Aging (AAHSA). In 2002, John was awarded the Pacesetter Award by the Boulder Daily Camera for his leadership in aging services in Boulder County. Despite a busy schedule, John takes time to help nurture future leaders through mentoring, and in 2005, he was awarded the Dr. Herbert Shore Outstanding Mentor Award by AAHSA. Mentoring is one of his most rewarding activities.
Originally from Michigan, John received his master's degree in corporate accounting and finance from Michigan State University. He began his financial career with Omni Hotels as assistant controller, overseeing general accounting functions and reporting. His career developed rapidly, leading him to become a director of finance with Interstate Hotels and Resorts. After 15 years of managing the financial processes of for-profit entities, his focus turned to mission-driven work, drawing him to the world of nonprofits and to Golden West. His goal is to further the mission of Golden West through solid financial strategy and support. In his spare time, he enjoys food, wine, travel and art.
Stephanie comes from a family of healthcare professionals. She began her career in the healthcare field as a C.N.A., working in home care and memory care assisted living. Once she earned her degree, a Bachelor's of Science in Healthcare Administration, she made the move to management, working first as a resident services coordinator and then as a director of memory care at assisted living communities. Drawn to nonprofits and missing the day-to-day interactions with residents, she's found her place at Golden West.
Originally from Kansas, Jill moved to Colorado in 1977. After living in Wyoming for 15 years, Jill moved back to Colorado. Jill has nearly 20 years of experience in senior recreation, having worked for other senior living communities and several senior recreation centers in the past. Jill has degrees in human rehabilitative service and recreation administration with an emphasis in gerontology. Outside of work, Jill enjoys reading, puzzles, bike riding and playing in the mountains.
A longtime resident of Boulder, Andrea worked with the University of Colorado for 26 years in various positions. After she retired in 2012, she returned to school to complete her degree. In 2013, she graduated with a degree in sociology with an emphasis in gerontology. During her schooling, she interned with Golden West and quickly fell in love. After working as a volunteer recruitment specialist for Boulder County CareConnect and as a crisis outreach worker for "Colorado Spirit," she returned to Golden West as the resident services coordinator. In her spare time, she loves to mountain bike, hike and run with her husband and dogs.
Danny started with Golden West in 2003 and has been the maintenance manager since 2005. He has plenty of experience in this field, having been in the building maintenance and construction trade for 22 years. Danny is a Colorado native and has lived in Boulder for most of his life. He enjoys what he does because he likes working with seniors and appreciates a job that involves helping other people.
Donna began her career with Golden West in 1993. She has remained with Golden West because she is proud to be part of a mission-driven nonprofit organization that provides such a needed service to the community. During her tenure Donna has held several positions, but since 1998, her passion and primary responsibility has been with human resources. Today, Donna also manages the assisted living and independent living department staff, who provide the direct services to the residents of Golden West. Donna has a bachelor's degree from Willamette University in Salem, Ore.
A Colorado native, Angie received a Bachelor's of Science in Human Development & Family Studies with a concentration in Gerontology from Colorado State University. She began her career in senior living as an Activity Director in Estes Park for Prospect Place Living Center as well as the Louisville Senior Center. In her role at Golden West, she has found a real connection with the residents and the staff. She loves connecting with the people, thinking of engaging and exciting events and activities for residents and running the
Theater Group.
Having held numerous positions at senior care communities throughout the state, Nicole never tires of working with seniors. "Each has lived such an interesting life," she said. "They're like little history books walking around." She loves finding a personal connection with every resident and learning what they have to teach her. Nicole has a personal connection to the industry having helped her mother move into assisted living, transition from California to Colorado and eventually move into long-term care. When she's not at Golden West, she can be found enjoying Colorado's beauty with her husband.
Would you like to join our team?
Join the fun! Help organize programs or share time with our seniors.
Golden West offers a range of volunteer opportunities for both Golden West residents and members of the Boulder community. With activities designed to enhance the quality of life at Golden West, there is a volunteer position for everyone.
Currently, more than one-third of Golden West residents volunteer. In addition, more than 30 individuals outside of Golden West volunteer here.
Volunteers are matched with jobs that meet their skills and interests. Most positions require a time commitment of one-to-three hours per week, for a minimum of three months. Volunteers must show a genuine enthusiasm for working with elders. Short-term volunteer opportunities are also available.
All volunteers are trained. Training includes an overview of resident rights, emergency procedures, do's and don'ts when working with elders, orientation to Golden West and training related to each specific volunteer position.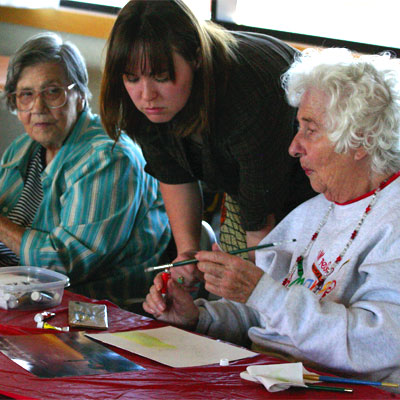 New volunteers are always welcome!